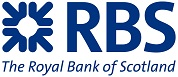 RBS
RBS
The Royal Bank of Scotland plc or RBS is major UK bank and a wholly-owned subsidiary of The Royal Bank of Scotland Group plc, part of its UK personal division. It is one of the UK's oldest banks being chartered in 1727.
It is a provider of consumer, private, business and corporate banking and along with NatWest together has two of the largest ATM networks in the United Kingdom.
RBS savings and deposits products include ISAs (cash ISAs, stocks and shares ISAs), notice accounts and bonds including fixed rate bonds.
Source: http://www.rbs.com and http://www.rbs.co.uk
RBS Services
Personal Banking
Current Accounts
Savings & Investments
Loans
Credit Cards
Mortgages
Insurance
Travel & International
Mobile & Internet Banking
Individual Investments
Share Dealing
Annuities
Junior ISA
Will & Inheritance Tax Planning